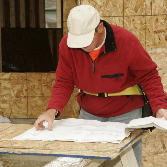 Remodel Packages
Whether you're remodeling the interior of an

existing

home,
adding square footage, exterior attributes, guest house, casita, garage or barn, whatever your needs are we can assist with the design and documentation to complete your project.
BUILDER PACKAGES
Complete custom home design plans for builders with multiple elevations & options. Contact us
to discuss your scope of work,
we can develop services to meet your specific needs.
Custom Home Design Pac

kages
Our custom home design packages are unique
to our clients. Each home is creatively designed & developed to incorporate our clients personality, desires and visions, while also keeping in mind the lot chosen, its attributes
and elevation allowing for the most
advantages placement of the home.
Our design packages vary to our clients specific needs and municipality requirements. Packages may include some or all of the following; Complete construction and permit set drawings showing the home design and placement on
the lot (site plan). Mechanical, electrical, lighting and plumbing plans, interior & exterior elevations, including detailed elevations for custom designed items, roof and framing plans, building sections, lot elevations with site placement, schematic landscape, hardscape & pool design and 3D Modeling.
Other services available with packages include, project management, site visits, design review committee meetings and city permit processing.
OTHER IN-HOUSE SERVICES
Design Documentation
Engineering Mark-ups
As-Builts
Consulting Services
Project Management
Plot Plans
Challenging Lots
NO Problem
No limit on design style, size of home or project.
Don't wait months for a preliminary design ~ we will get your project started quickly and keep you on track!
Providing Design and Documentation Services for Residential and Light Commercial
Custom Home Design ~ Builder Spec Designs ~ Remodel Design ~ Complete Drawing Packages ~
Building Permit Process ~ Design Review & Architectural Guideline ~