Our Team & Our Commitment
At Vibe we pride ourselves on being knowledgeable, courteous, patient and honest. Our combined years of experience in both designing and building, allows us to provide our clients with knowledgeable information both in the design world and the real world. A lot of designers can design a home, but we can design a home that is buildable, take you through the permit process and work closely with your builder to the end to assure your project is completed to your expectations.
Have a challenging project - No Problem! We pride ourselves on being creative and unique.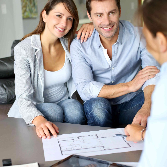 Mission Statement
Our group is dedicated to providing the most cost effective and knowledgeable services, listening to our client's needs, and exceeding all expectations.
Vision
We strive to be the best at assisting our clients, connecting people with their dreams and helping build a better community one home at a time.
Values
Integrity, honesty, and trust allow us to build relationships and ensure we serve our clients and community the best way possible.